What a brilliant idea by Virtual Vomit! I hope everyone reading feels the same excitement as I'm feeling!!!  Instead of being negative and depressed I would rather be happy and optimistic, it's much easier to be happy.
I am very happy because I'm healthy, all my limbs are working.  I might have some tweaks and creaks but overall I'm healthy as a teenager.  Of course I would like to be in better shape and all that jazz, but I'm at peace with the body I have, finally!
I'm happy I have had the opportunity to experience to be a mother.  It may not be fulfilling and magical ALL the time like in the magazines or on TV.  But it has made me a better, stronger, loving and more patient individual.  I'm incredibly grateful for the teachings I get from these little people.  The joy, frustration, anger, love they cause me is a roller coaster ride, but I wouldn't change it for anything in the world!
My beautiful friends cause me oodles of happiness!  My awesome group of friends is the best hand picked group of ladies in the entire universe.  They are way to loving, nurturing, no judgements, uplifting and so supportive that they bring tears to my eyes.  I am so blessed, despite all the shit I go through, I have these wonderful ladies in my corner.  Love each one of them wherever they may be in the world.
I'm happy because I have music and dance around me.  My soul is fed through Indian music with a little bit of shaking it.  Whoever created Hindi music, THANK YOU.  It's Indian music that gets me through the rough days, without it I think I would go crazy.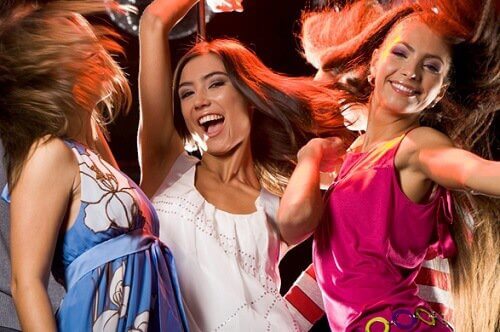 I'm happy because when I look out the window, it's beautiful.  The privilege of living in a peaceful place is humbling.  I'm not around poverty, slums or war at my doorsteps.  Opening the door and leaving the house without worries about being shot or hurt makes me happy and grateful.  I'm surrounded by natural beauty in my backyard why shouldn't I be happy?!?!?
My parents being in my life makes me happy.  Every child/parent relationship has it's up and downs.  My parents are my safe place.  They let me be who I need to be, they let me get out my frustrations and still love me unconditionally.  Even as an adult, I need them today and will forever.
I'm happy that I have had a built in best friend from the day that I have been born.  My sister, my rock..  I am happy we have an awesome relationship.  She and I are the same but different in so many ways.  We are the sun and the moon, nothing without the other.  A relationship that is positive and fulfilling, we can agree to disagree but still cuddle whether she likes it or not!
My happiness is at its height during social time.  I thrive in parties, I love to network and talk to random strangers getting to know them.  Socializing is important to me, it's a life line, a drug for me.  Like a dog needs to be walked, I need to be socialized.  This can be in the form of a dinner date with my friends/colleagues, a big fat Indian wedding with 1000 guests, a fundraiser or a quiet evening on the couch curled up with a loved one.  I love people!
Money makes me happy.  I know it sounds shallow but let me explain before you judge.  Because I've had enough money to make me comfortable my entire life, I've been able to buy myself distractions when I've been low.  I have used money to get me through some nights when I've had no where to go.  When I have needed to eat because my kids and I were hungry, we used money. I've never been without anything, thank you universe!  I love money and money loves me.  I do realize money is a bandaid solution and it's temporary happiness but I'll take it!  It doesn't fix problems but it certainly gives us freedom to live this life.
Chocolate and cake are other sources of my happiness.  There is nothing like good chocolate to taste and a beautifully decorated cake to admire, both make me smile ear to ear.  I find cake decorating so beautiful and interesting.  I'm literally the creep who stares at cakes like a man staring at a hot woman!  I walk through the cake section every chance I get to appreciate the bakers hard work.
I'm happy because I live in a country where I have freedoms as a woman.  I live in a country where my daughter can be herself and have opportunities that other girls may not have as easily.  I'm happy this place I call home is the land of opportunities without restrictions.  I know she and I can achieve whatever it is if we wants, it's a real option.  The sky really is the limit.
I'm happy when I see beautiful artwork and quotes.  My favourite artwork is usually of women.  I find art work of Iconic Women (Marilyn Monroe, Audrey Hepburn) absolutely priceless.   I also love folk artwork of Punjabi women, takes me back to my roots.  I love color accented artwork.  I am drawn to artwork of the female body and the beauty of it.  Quotes in beautiful art also bring me happiness.
The biggest source of my happiness is …. *drum roll* is myself!  I was a little lost for a little over a decade, okay maybe a lot over a decade!  I have finally found myself again.  I have learned how to live and smile again.  Without fully loving myself I can't love anything to its fullest capacity.  I am extremely happy that I have me again in my life.  I have brought myself hope, ambitions, strength, visions and a reason to make the most of whatever it is that I have.   Beautiful people around me gave me encouragement, but ultimately I had to be the one to start making the changes.  Those changes took way too many years but the changes came.  I AM MY OWN HERO, with the help of others!
-Venya♥